How To Use Cookie Cutter & Rolling Pin
✨For Cookie Cutter
"Don't worry, I also put the recipe for the cookies with the rolling pin."[at the bottom]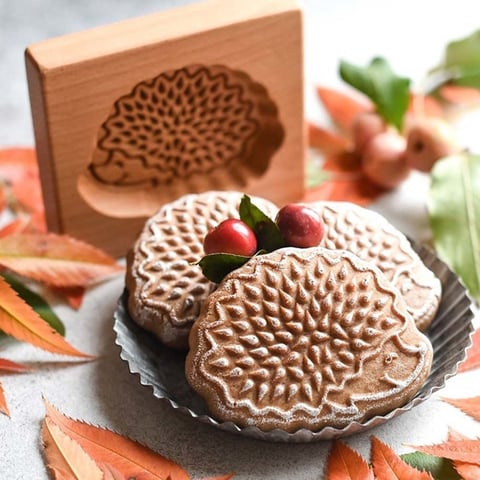 Ingredients:
Sugar -150 g /2 eggs /Butter - 100 g/ Soda-1 teaspoon/ Honey - 5 tablespoons (150 g.)
Flour, wheat Flour - 470-500 g/ Powdered flavors (spices)-1-2 teaspoons
Prepare your dough:
Mix honey, sugar, butter, and a pinch of salt in a bowl, then heat it over a water bath. Stir it until it's smooth and the sugar dissolves, this process will take around 10 minutes.
Remove from fire. After 3-5 minutes, when the kneaded dough is slightly cooled (no less than 70C), add about 100 g of flour and spices. Mix intensively so that there would be no lumps.
Then remove it from the stove. After 3-5 minutes when the mixture is slightly cooled, add about 100 g of flour and spices. Mix intensively so there are no lumps.
Let it cool and then add the eggs.
Add flour in portions, this is done because the quality of flour and other ingredients is not the same for every person. You cannot say how much flour you will need that's why it's better to add less flour than it is stated in the recipe. If the dough is too soft you can add more flour.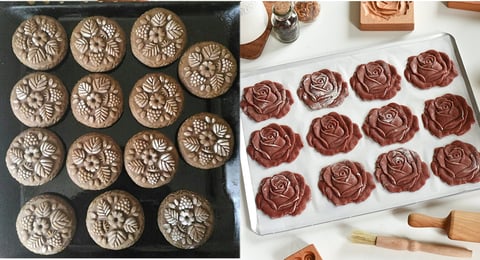 BAKING:
Leave about 5 cm between the pieces of gingerbread on a baking sheet, because they will enlarge in the oven even more.
To make the pattern well-preserved bake the gingerbread in a pan.
First, bake the gingerbread at 250 degrees for 3 minutes, then open the door for 20 to 40 seconds, so the heat can come out. After that, reduce the heat to 170 degrees and bake it for 5 to 15 minutes depending on the size of the gingerbread.
When the gingerbread is ready it can be covered in icing.
If you leave the gingerbread, for a day, to rest in a glass jar or a tin the gingerbread will be even better and taste more delicious.
✨For Rolling Pin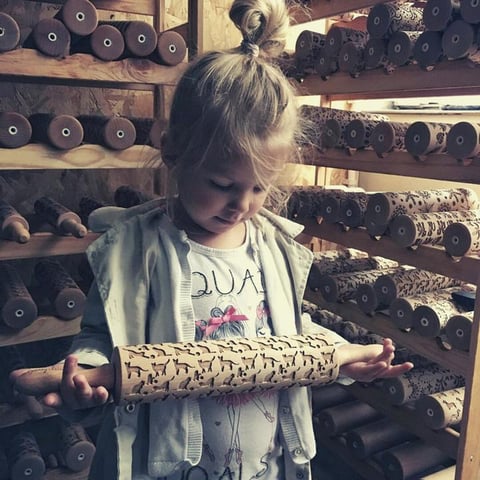 "Before using, brush it with vegetable oil or olive oil."
Ingredients:
230g unsalted butter.
175g confectioner's (icing) sugar.
1 Egg (room temperature).
1.5-3 Teaspoons extract or emulsion (any flavor).
1 Teaspoon salt.
400-425g all-purpose flour.
Cream together butter and sugar.
Add eggs and extract and mix well.
Sift together flour and salt, add to wet mixture little by little until well incorporated.
Roll, emboss and cut cookies into desired shapes, dusting with flour as necessary.
Bake cookies at 200 Celsius for 7-8 minutes until tops are appear dry rather than shiny.
The secret is to pre-heat well the oven, and apply the right amount of pressure on the dough.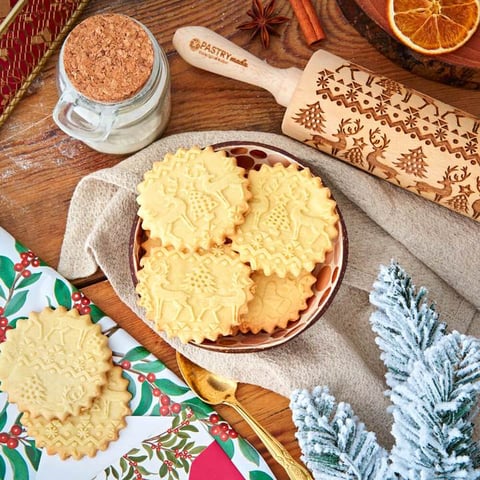 How to clean the pin?
To keep your rolling pin clean, put your pin under running water.
Start cleaning the pin with a brush, we recommend Eco Cleaning Brush for best results.
If there are still dough left, put it into the water for about 5 mins, this should make it easier to clean.
Do not wash in a dishwasher.
Dry it thoroughly and apply a layer of vegetable oil or olive oil (Keep away from direct sunlight).